Our Community Comes Together
This Giving November!
In case you missed it, this Triple Giving Tuesday, generous OMF donors have agreed to TRIPLE all donations up to $500,000 until International Giving Tuesday on November 29. That means every day in November, your donation has TRIPLE the impact, making this Triple Giving November! Give the gift of hope today.


During this #TripleGivingNovember, we are delighted to highlight the stories of wonderful people in our community who help us to raise awareness and further our mission to end ME/CFS, Long COVID, and related multi-system, chronic complex diseases (msCCD).
---
Stand-up Comedian Shines Spotlight on ME/CFS 
Standup comedian Doug Ouimette is using the stage to shine a bright light on ME/CFS in honor of his wife. Check out an exclusive interview with Doug:
Thanks for joining today, Doug! How did you get into standup comedy? Can you share more on the experience of speaking about ME/CFS on stage? 
I started comedy roughly 4 years ago. When Christina got sick with ME/CFS, I started to see a therapist to talk about what was happening to my wife, coping with becoming a caregiver, managing my emotions, and learning how to adapt to our newly evolving situation. One of the suggestions from my therapist was that I needed to start vocalizing my feelings and emotions throughout the day instead of just holding them in. I told my colleagues this advice and they suggested I try stand-up comedy to get my feelings out.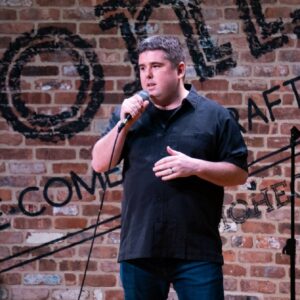 I find that comedy is a great way to bring awareness of ME/CFS because it's lighthearted and provides the listener with an easy response to an uncomfortable topic. I am not lecturing the audience, seeking empathy for my wife, complaining about being a caregiver, or using those that are sick as my punch lines. Instead, I talk about the doctor's uneducated responses, unaccommodating accommodations, and unique quirky things she has done to get through life. At the end people have told me they had no idea about this illness, and they leave with a basic understanding.
From there they can go on to watch documentaries or do their own research. I love that my wife doesn't have to hear "I'm so sorry." Instead, she gets presented as a typical wife and mother that just sees the world from a different perspective.
---
Best Selling Author Karin Alvtegen Rallies to Raise Awareness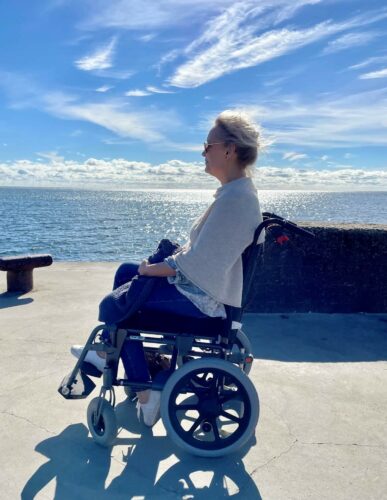 As shared from Karin:
Now it's that time again. I know. It is very sad to hear about illness. However, I can guarantee that being sick is even worse. Especially year in and year out. That's the case with ME/CFS. I spend most of the time lying on the couch. Does this sound luxurious? Believe me. It isn't. Especially not after 10 years.
As of last week I was at the doctor. Unimportant why, but it takes quite a lot nowadays for me to seek help. So I was in distress. "You have that kind of fatigue problem," the doctor said.
It wasn't the first time I've heard that saying from a doctor. But now it makes me want to scream out loud. It would be great if I was just tired, because I am NOT just "TIRED."
ME/CFS is a severe, chronic multisystem disease affecting the nervous system, immune system, and energy production. For example, many of us live with constant and severe pain in the head, joints, and muscles. We can no longer read texts. We live with a constant feeling of having the flu. Research and medical experience establish that ME/CFS is an extremely disabling disease.
The number of ME/CFS patients in the world is increasing after the pandemic. Many people are now sick with Long COVID, and the symptoms are very similar to ME/CFS. (I myself got sick after a flu in 2013.)
But now on to a positive note. Thankfully, ME/CFS is being researched around the world by leading scientists at Open Medicine Foundation. As a proud ambassador for Open Medicine Foundation I would like to announce that until November 29, all gifts will be tripled.
So help me help, myself and everyone else. Click here to donate now!
---
Multi-Award-Winning Performer Jacqueline Ko Shares her ME/CFS Story: 
"I was just ten years old, and my health completely collapsed" 
As part of Triple Giving November, we are excited to be joined by OMFCA Ambassador Jacqueline Ko for an exclusive new video interview.
Jacqueline is a multi-award-winning Canadian performer, producer, and disability advocate. She is known for her roles in opera, theater, musical theater, and film, and is also the founding artistic director of Opera Mariposa, Canada's first fully disability-run opera company.
---
@EdersGirl Shares Her Story on Instagram:
"Each of these photos represents a missed moment or memory. Family time spent living a life without me, out there in the real world. The time I instead spend in bed, suspended in permanent waiting mode. Millions of other people are also missing memories with their families, all because they are in bed or at home with ME/CFS. A condition for which there is no treatment right now.
Open Medicine Foundation is aiming to solve this and help all of us start living a real life again. Their research is absolutely gold standard. They are making incredible progress.
In the future I want to work again. I want walk again. I want to swim, climb, drive, and spend a thousand and more hours with the family and friends that I miss every single day. If you do have any spare pennies in this crazy year, please consider giving some to the Open Medicine Foundation. Everything you give in November will be tripled. ♥" – @Endersgirl
*Join the conversation: Why are you supporting #TripleGivingNovember this year? Share your story and help us spread the word that all gifts are tripled. Looking for some inspiration? Check out our social toolkit with some ready-made text posts and images to share! 
---
Have your Donation TRIPLED Before it's Too Late! 
Join our greater OMF and OMFCA community by supporting Triple Giving November!
ALL DONATIONS to OMFCA are tripled up to $500,000 until November 29 only. Give now and invest in critical research, medical education and small clinical trials that will give hope to millions worldwide.



---