$3 million pledged for new study at the Collaborative Research Center at Montréal!
#TripleGivingTuesday Research News
From the desk of Alain Moreau, PhD
Director of the Collaborative Research Center 
at the CHU Sainte-Justine/Université de Montréal
There is just one week left for #TripleGivingTuesday, OMF's biggest fundraising campaign of the year. I'm excited to share amazing news on behalf of my research team at the ME/CFS Collaborative Research Center at the CHU Sainte-Justine / Université de Montréal: 
We just received a pledge of $1 million per year for three years from a group of anonymous Canadian donors to fund a new study entitled, "REMEDIAL: Precision Medicine for Myalgic Encephalomyelitis Drug Discovery and Clinical Trials."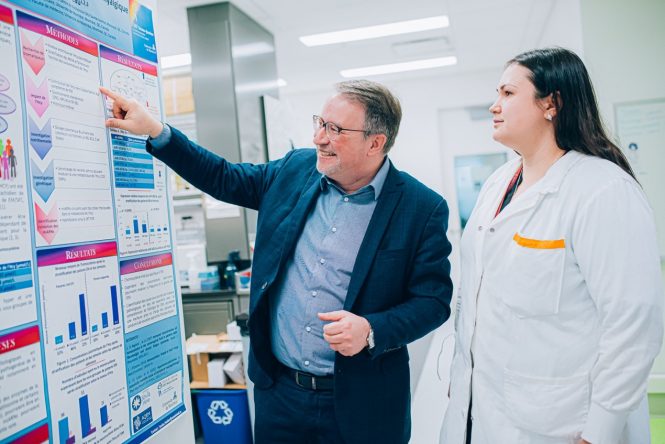 This exciting project has the potential to identify early intervention and targeted treatment strategies for persons with ME/CFS. We are incredibly grateful to our leadership donors for their investment in accelerating research!
The Project
The REMEDIAL project will provide a more comprehensive understanding as to why some ME/CFS patients exhibit different and distinct symptoms and how post-exertional malaise exacerbates many symptoms. Identifying specific biomarkers will aid in the development of risk prediction of complications associated with ME/CFS early prevention and better treatments.
Through our deep-phenotyping approach, we hope to understand the presentation, severity, and underlying causes of illness persistence. Working within the field of precision medicine, this study may lead to early intervention strategies and targeted treatment approaches by repositioning drugs currently used for other clinical applications. Precision medicine is essential to address the clinical complexity of ME/CFS and to identify the best therapeutic options to treat the disease. 
What does this mean for people with ME/CFS?
The findings from this project will lead to a better understanding of the molecular mechanisms underlying ME/CFS development, the persistence and variability of the symptoms, and the identification of potential treatment targets for intervention.
Stay tuned for more information as this project is rolled out. 
*While OMF funds research projects at our six established Collaborative Research Centers, we are not typically involved in the research process and cannot introduce constituents to researchers. CRCs are not able to respond to inquiries from the general public. When OMF seeks participants in any data gathering research project, we will email those requests to our entire community. *
We are so thankful for the generosity and trust of our anonymous donors. Their investment in this groundbreaking initiative is what will bring us closer to finding treatments and a cure for millions who've been suffering from ME/CFS for far too long.
Please consider making your own investment in research by donating to #TripleGivingTuesday before it's over! With just one week left in the campaign, NOW is the time to donate and have your gift triple matched!