TRIPLE GIVING TUESDAY OMF LAUNCHES TODAY


With big news from Australia!



Welcome to the first day of our 2020 Triple Giving Tuesday Campaign! I'm thrilled to announce that Open Medicine Foundation (OMF) will triple all donations up to $333,333, allowing us to meet our ambitious goal to raise $1 Million for ME/CFS research. Thanks to several generous supporters, when you donate to OMF any day of the week, today through International Giving Tuesday, December 1, 2020, your donation will be triple matched:
Your $10 donation
will be tripled to $30
Your $100 donation
will be tripled to $300
Your $1000 donation
will be tripled to $3000
To celebrate our largest fundraising drive of the year, we want to share with you, our valued supporter, some exciting news!
We are proud to announce the launch of OMF Australia with the establishment of the Melbourne ME/CFS Collaboration, to be led by our beloved colleague and newest Collaborative Research Center (CRC) Director, Christopher Armstrong, PhD.  The Melbourne Collaboration will be the 5th addition to our global network of OMF funded CRCs that include Harvard, Stanford, Uppsala, and Montreal Universities.
We are tremendously grateful for the generous support from Emerge Australia, our Australian partner. Emerge Australia is a national organization providing information, support and advocacy for people with ME/CFS — giving hope and help to more than 250,000 Australians living with the disease.
About Christopher Armstrong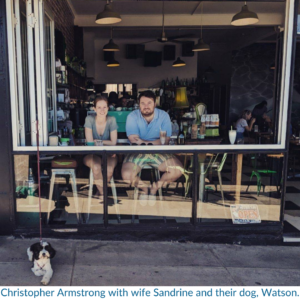 Christopher Armstrong, PhD, will be the Director of the Melbourne ME/CFS Collaboration. Chris, OMF's former Science Liaison and Visiting Scholar at Stanford, completed his PhD in Biochemistry at the University of Melbourne and has been involved with researching ME/CFS for over a decade. An Australian native, he is perfectly positioned to lead and grow this new research hub for years to come.
The Research 
Under the direction of Dr. Armstrong, the team at the Melbourne ME/CFS Collaboration will conduct a groundbreaking research program to develop a personalized medical approach for studying and treating ME/CFS.
In its first project, the  Melbourne research team will characterize the biology of people with ME/CFS by continuously monitoring their health data and sporadically sampling and analyzing their blood and urine over the course of a year. Data will be analyzed to identify characteristics of disease severity in individuals, then compared across patients to identify patterns — helping reduce the complexity and length of the personalized medical approach.
The expected outcome is the establishment of a condensed personalized research method that can be used to track the development of ME/CFS, provide an understanding of the biology of the disease process in the individual, and monitor outcomes in clinical treatment trials.
Your contribution made during the first week of OMF's 2020 Triple Giving Tuesday will jumpstart our campaign and show your support for young, cutting edge researchers like Dr. Armstrong. It will inspire philanthropy in Australia and all of our Collaborative Research Centers across the globe, energizing our single most important fundraising effort of the year.
Donate today to ensure we can take advantage of the entire matching gift amount
Give any amount, any day of the week — and your gift will be TRIPLED! 
If you're passionate about ending ME/CFS, we encourage you to create your own online fundraiser for OMF. All donations to your fundraiser will be triple matched as well during this campaign!
In a year of great uncertainty, we find promise that the efforts to find a cure for ME/CFS continues to grow. From Australia, Sweden, Canada and the U.S., OMF is leading research — and, with your help, delivering hope for a better future.

Linda Tannenbaum
Founder & CEO/President