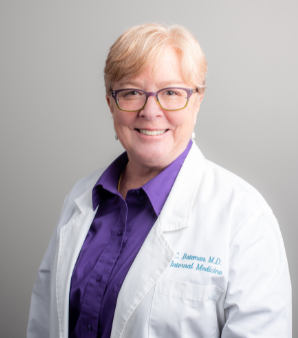 Open Medicine Foundation (OMF) is thrilled to announce that Dr. Lucinda Bateman has joined our esteemed Scientific Advisory Board. Her appointment serves as a testament to our ongoing commitment to fostering a multidisciplinary approach to medical research and care, ensuring we remain at the forefront of innovative research.
Dr. Bateman's dedication to patient care, research, and medical education aligns seamlessly with OMF's mission. Currently, she serves as the Director of the OMF-supported Medical Education Resource Center (MERC) at Bateman Horne Center, further solidifying her important role within our foundation.
About Dr. Lucinda Bateman:
Lucinda Bateman, MD, is a distinguished clinician, researcher, and educator. A product of the esteemed Johns Hopkins University Medical School, Dr. Bateman has always placed the patient at the center of her practice. Her philosophy is clear – just because a condition is unknown or unexplained does not mean the patient should receive anything less than thorough and compassionate care.
Since establishing her practice in 2000, Dr. Bateman's accomplishments are numerous:
Served on six prestigious boards or committees.

Acted as the principal investigator for 45 groundbreaking studies.

Authored or co-authored 40 journal articles.

Contributed as an adjunct instructor and assistant professor at the University of Utah in various departments.

Lectured at global conferences, sharing her expertise and knowledge.

In 2015, Dr. Bateman played a pivotal role as a clinical expert on the IOM/NAM committee, assisting in the formulation of the clinical diagnostic criteria for ME/CFS. This was a significant moment for clinicians, researchers, and patients alike.
Her collaborative efforts span institutions such as Stanford, Columbia, Cornell, Harvard, CDC, NIH, RECOVER Initiative, Riken, and more. As the co-founder of the U.S. ME/CFS Clinician Coalition, her influence in the medical community is undeniable.
Further demonstrating her dedication, in 2015, Dr. Bateman fused her private clinical and research practice with its non-profit counterpart, OFFER, birthing the Bateman Horne Center (BHC). This center is devoted to the diagnosis, management, research, and education benefiting those affected by multi-system chronic complex diseases (msCCD).
Today, her passion remains undiminished as she continues to champion the cause of enhancing access to informed medical care, placing a keen emphasis on medical education.
We are honored to have Dr. Lucinda Bateman on board and are eager to witness the invaluable insights and contributions she will bring to the OMF Scientific Advisory Board. Welcome, Dr. Bateman!