This November, something special is returning: Triple Giving November (TGN)! During November, every dollar you give to Open Medicine Foundation Canada (OMFCA) will be TRIPLED up to $500,000 thanks to generous matching donors. That means you can have TRIPLE the impact on our mission from November 1, 2023, to November 30, 2023!
But Wait, There's More…

We're bubbling with excitement and are almost ready to share some big news. It's something that will take a big step forward in our mission to end ME/CFS and Long COVID. We can't say what it is yet, but you'll want to be the first to know. Stay tuned as we will announce it on November 1! 
 Why Your Help in TGN is a Big Deal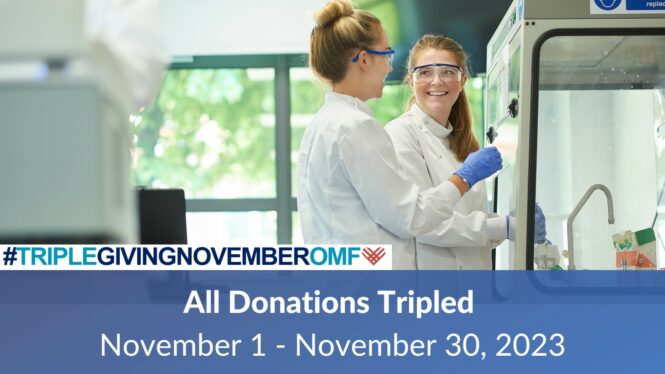 Triple the Impact on Research

: Every gift in November gets tripled, making it three times as powerful!

Making Big Things Happen

: Your generosity in November helps us do important work all year long, like researching and expediting the search for effective ME/CFS and Long COVID treatments.

Giving Hope to Millions

: With three times the funds, we can do so much to help people whose lives have been turned upside down by these chronic and complex diseases.

 
Save the Date: November 1, 2023
Circle November 1 on your calendar, because that's when we all dive in to make a huge impact together. Your gift can do three times the good and help us make a big difference in the lives of many.
Stay tuned, and let's make November a month to remember!