Every donation today through December 3 will be tripled!

Today is the first day of Triple Giving Tuesday fundraising campaign, and I'm excited to announce that we have secured matching gifts up to $200 000 through the generosity of several supporters.
Thanks to these individuals, when you donate to OMFCA any day of the week today through International Giving Tuesday, December 3, 2019, your donation will be triple matched.
Donate today to ensure we can take advantage of the entire matching gift amount.
The triple match applies until $100 000 is donated, which will allow us to meet our ambitious goal to raise $300 000 CAD total during Triple Giving Tuesday to fund critical research for ME/CFS.
If you'd like to fundraise for OMFCA online, in-person or by mail, all donations to your fundraiser will be triple matched as well.
As I told our supporters after the recent Community Symposium at Stanford, I've never felt more hopeful and inspired by the progress researchers are making. With your help, we can provide great research minds the resources they need to find treatments and a cure for this devastating disease.
With hope for all,

Linda Tannenbaum
Founder & CEO/President
TRIPLE YOUR DONATION TODAY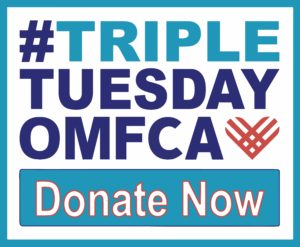 omfcanada.ngo/Triple-Giving-Tuesday-2019