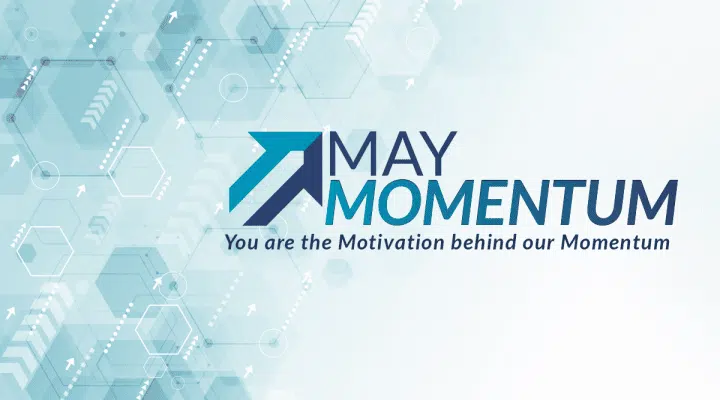 OMF's 2020 #MayMomentum campaign ends tomorrow.
We are humbled by the sheer number of international community members who have come together to support OMF, united by a shared commitment to find answers and end Myalgic Encephalomyelitis / Chronic Fatigue Syndrome (ME / CFS). It's not too late to join them! Please consider
donating today
. We are so grateful for those who gave their time and energy to speak up about what OMF's mission means to them, to educate their communities during ME/CFS Awareness Week, and to advocate for critical research. Over
45 people
hosted Facebook fundraisers in May,
raising over $25,000 and counting!
The COVID-19 pandemic broadened the conversation around post-viral diseases and inspired us to share our insights into the parallels for those living with ME/CFS. Our own
OMF Celebrity Ambassadors
added their powerful voices to this discussion, helping
#MayMomentum
to gain wide-spread visibility, traction, and support.
Celebrity Ambassador and best-selling Scandinavian author
Karin Alvtegen
highlights the daily reality for ME/CFS sufferers in relation to the pandemic:
"For most people, the Covid-19 quarantine will soon be over. For many with ME/CFS, the quarantine will continue, as usual, year in and year out. Those of you who have the opportunity, please support the research at Open Medicine Foundation." Despite the gravity of the current situation,
Jacqueline Ko
, Celebrity Ambassador, opera singer, producer, & disability advocate demonstrates a reason to be hopeful: "There are no diagnostic tests or treatments available for ME/CFS, so the research that OMF is undertaking is absolutely vital in changing that. They offer hope not only to the millions of people currently grappling with this disease but to the many more who are now at risk of developing post-viral ME/CFS as a result of COVID-19. Please join me in supporting OMF's May Momentum campaign and helping to accelerate their research." OMF's newest Celebrity Ambassador, film & TV actress
Jennie Jacques,
has also added her influential voice to this important conversation, urging more awareness of ME/CFS: "I ask everyone to start raising awareness for ME/CFS, now. Quarantine is forever for the people diagnosed with ME/CFS. We are experiencing a world pandemic driven by a viral infection, now is the time to take every action within our power."
Amy Carlson
, television actress and Celebrity Ambassador, has also spoken out, encouraging her fanbase to support OMF's research. Amy dedicates her advocacy and fundraising in honor of her beloved friend Anne Berry, who suffered from ME/CFS and tragically passed in 2017: "If you can donate to Open Medicine Foundation, please do, in any amount. Together we can help OMF – an organization that drives research to help people with ME/CFS and the myriad of other related diseases." Your contribution to #MayMomentum 
of any amount
 supports research for effective treatments, diagnostic tests, and a cure for ME/CFS.
Thank you for your support, dedication, and friendship. It gives us profound hope that together, we can #EndMECFS.
---
Give to #MayMomentum And show the world that fighting ME/CFS should matter to everybody!
Please visit #MayMomentum for more information.
Prefer to use Facebook for monthly or one-time giving? Check it out here:#MayMomentum Facebook
---