Silent Auction to Benefit OMF!
Michelle Kaysen, Person with ME/CFS & Auction Organizer, Shares her Story
Michelle Kaysen, advocate and person with ME/CFS, is hosting a silent auction to benefit OMF funded research! From auctioning a wheelchair to original art, Michelle has gathered an impressive collection of bidding items, specifically catered to the ME/CFS community. Check out her remarkable collection here.
Michelle's auction will open for bidding on February 18th to February 28th, and all proceeds will be generously donated to OMF!
We are delighted to share an interview with Michelle, who discusses her journey with ME/CFS, and the incredible effort she has put in to make this virtual auction possible:
How long have you had ME/CFS? Was it challenging to receive a proper diagnosis?
In retrospect, I've been experiencing mild ME/CFS and seeking a diagnosis for about ten years. I finally received the proper diagnosis in January 2021, when I progressed from mild to moderate ME due to the lack of pacing. It was incredibly difficult to receive the right diagnosis and is directly attributable to my disease progression.
I was diagnosed with primary immunodeficiency (PI) years ago. PI is an umbrella term for over 300 different congenital immune system defects that result in missing or dysfunctional parts of the immune system. PI is typically characterized by frequent, persistent infections that can be difficult to resolve. However, once my PI symptoms were treated and under control, I continued to experience other symptoms that were, unknowingly, ME/CFS. I was repeatedly tested for various autoimmune conditions but was never presented with a possible ME/CFS diagnosis. Without knowing, I continued to push myself into a more progressed state.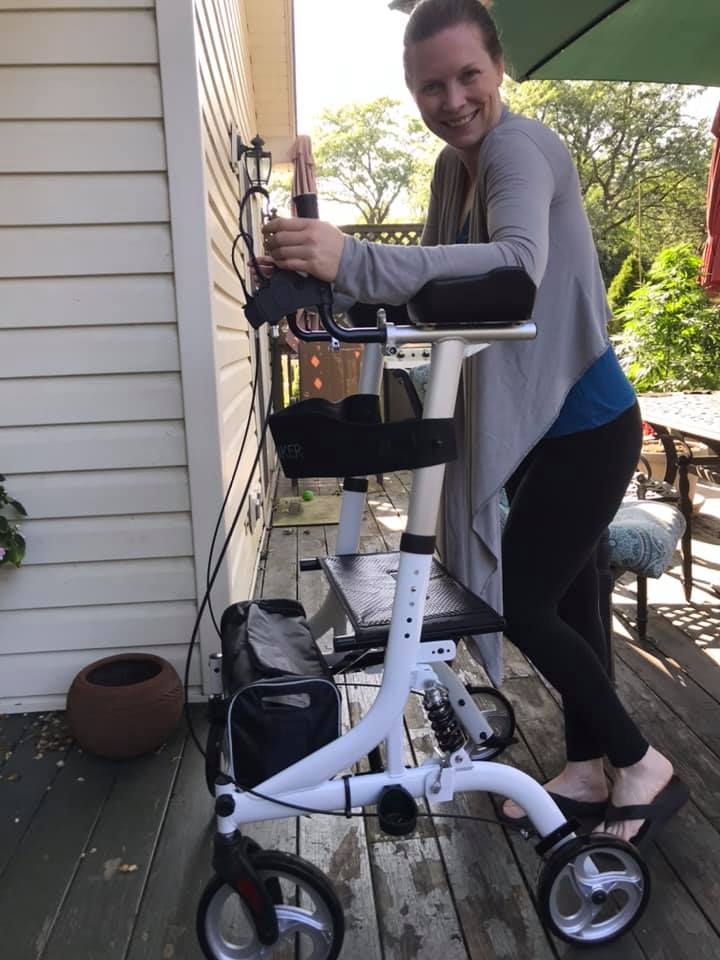 How did you hear about OMF?
Upon finally receiving the correct diagnosis I started doing as much research as possible to understand the disease. I became aware of OMF by watching the documentary film, Unrest. Shortly thereafter, I read The Puzzle Solver by Tracie White and became a monthly donor to OMF. 
What inspired you to create an auction fundraiser?
There is an abysmal lack of medical research for ME/CFS due to funding. This, in combination with the shameful history of medical malpractice associated with ME/CFS, is an overwhelming reality to encounter when you first experience months and months of debilitating symptoms. I was inspired by the story of Ron Davis and his family. I've continued to be inspired by the countless others who have spent decades lost to this disease, waiting and hoping. I've been beyond inspired by the community of advocates who should be credited with the cultural changes we have seen towards ME/CFS.
All this culminated in my need to do something, and I decided to start by raising money. As an environmental scientist not particularly savvy in fundraising or social media, I honestly had no idea where to start. Out of all the options I explored, an online silent auction appealed to me because it's an event the community can rally behind. It's something uplifting and fun that, hopefully, will introduce ME/CFS to others who are not familiar with it.   
Can you share some items/experiences up for auction that you are most excited about?
I'm really excited about the mix of items and experiences available. In soliciting donations, I made an effort to create an auction experience that people in the ME/CFS community might enjoy. So, items they might be excited to bid on include things like a Fitbit heart rate monitor and a manual wheelchair!
As a fundraiser, I also tried to secure items for a broad base of people to raise as much money as possible and educate more about ME/CFS. I can promote the racecar track experience to car fans, the hard-to-find Beatles Lego set to music lovers and the yoga festival weekend pass to yoga practitioners.
Personally, I'm very excited about the mindfulness meditation bundle.
What was the process like creating this event and connecting with people in the ME/CFS community?
Connecting with people in the ME/CFS community has been amazing. It's been humbling, powerful, and meaningful. This community is ready to guide and mentor in the most affirming way, all while each individual is struggling every day.
Creating the auction has been both educational and therapeutic. Doing something allowed me to feel some measure of control over an otherwise powerless situation.
The planning for the auction was a steep learning curve! I researched online software for the auction, solicited donations, created a Go Fund Me to secure donations that would help me ship items. Securing donations required a lot of outreach. I would say for every 10-12 requests, I received one donation. The generosity of cash donations allowed me to purchase items as well.
What is one thing you wish everyone would understand about ME/CFS and related diseases?
I wish people understood that there is research to support the underlying mechanisms and corresponding management strategies. My impression is that many people still believe we know nothing about the disease and, therefore, have no management strategies, such as pacing. Much like the current Long COVID research, we should always leverage what we know and how we can use and build upon that information.